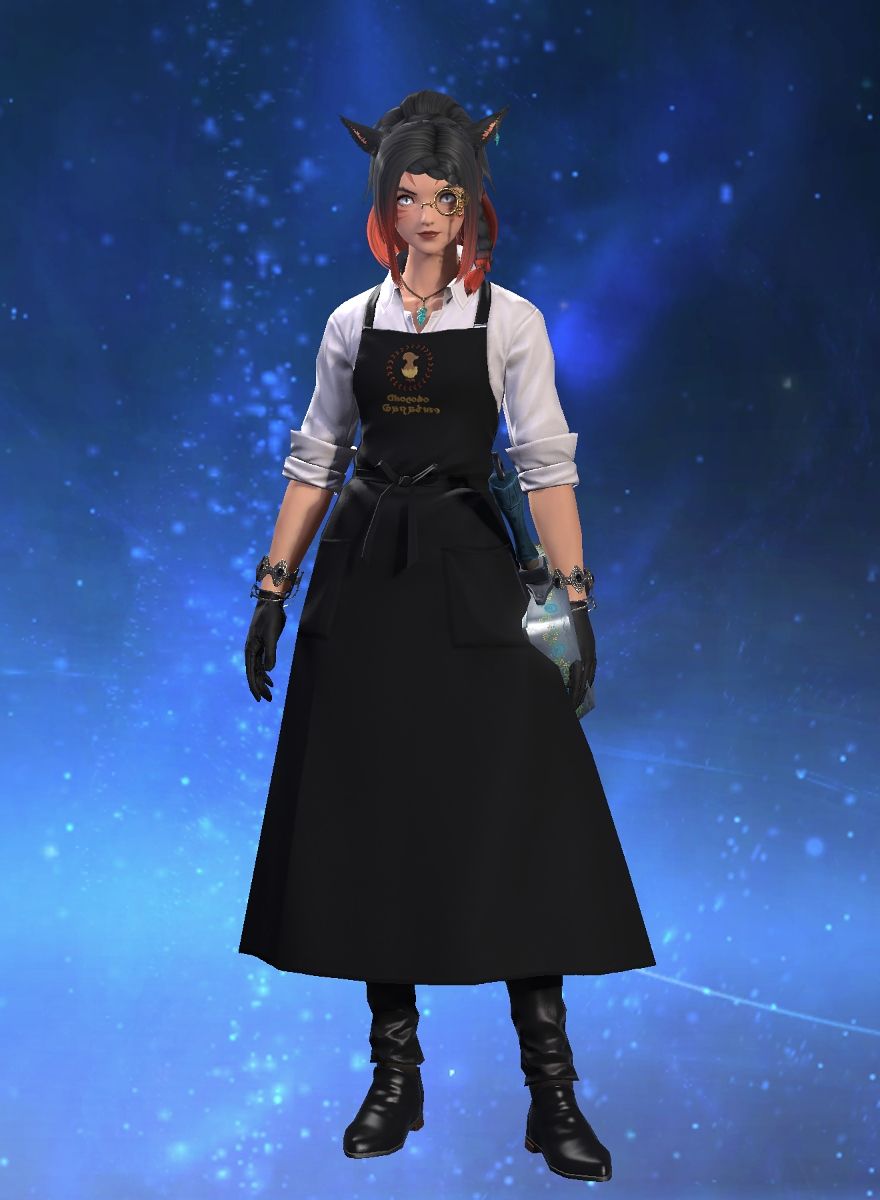 Name
:
Gally Lastorder
ID
: 2800156
Moniker
: Domitrix
Race
: Female
Miqo'te
of
Seeker of the Sun
clan
Nameday
: 11th Sun of the 1st Umbral Moon
Guardian
:
Nophica, the Matron
Location
:
Gridania, Odin, Light
Grand Company
:
First Serpent Lieutenant in
Order of the Twin Adder
About
: Gally Lastorder
Après avoir perdu des proches lors d'une catastrophe écologique due à la collision d'une météorite avec la Terre amenant l'humanité au bord de l'extinction, Gally est réveillée par un étrange cristal ... Elle n'a plus le moindre souvenir. Pourtant elle décide de chercher un sens à sa vie.
Errant dans la forêt, elle rencontre un marchand ambulant qui l'emmène à Gridania.
A son arrivée, elle rencontre Kan E Senna qui lui explique qu'Eorzea est menacée d'extinction. Elle lui propose de se battre afin de préserver le calme de la forêt tout en cherchant des réponses sur son passé.
En franchissant les multiples dangers d'Eorzea : l'empire, les labyrinthes de bahamut et des primordiaux Ex, elle redécouvre son talent pour le combat. Elle se sent souvent protégée par une force inconnue ... un cristal pur de pouvoir. A-t-il toujours fait parti de sa vie ? Est-ce de ce cristal qu'elle puise sa force ? Tant de questions sans réponse ...
Gally décide de fonder un groupe de chasseur de prime nommé les KING OF FIGHTERS.
Maintenir un groupe soudé n'est point facile mais elle fait tout pour y arriver afin de vaincre en groupe tous les maux d'Eorzea. Gally sait qu'elle n'est plus seule ... Elle vaincra au sein d'une compagnie libre ...
Retrouvera-t-elle son identité ? Ses origines ? Pourquoi le cristal protège-t-il Gally ? Les asciens ont-ils des réponses ?
... Suivez ses aventures et Faites parti de la vie de Gally ...
Achievements

Battle

Battle

Dungeons

Raids

The Hunt

Treasure Hunt

Trials

Character

Class

Commendation

Disciples of Magic

Disciples of the Hand

Disciples of the Land

Disciples of War

General

Gold Saucer

Crafting

Aclhemist

Armorer

Blacksmith

Carpenter

Culinarian

Goldsmith

Leatherworker

Weaver

Exploration

Abalathia's Spine

Coerthas

Dravania

Duty

Gyr Abania

La Noscea

Mor Dhona

Othard

Thanalan

The Black Shroud

Gathering

Botanist

Fisher

Miner

Grand Company

Grand Company

Immortal Flames

Maelstrom

Order of the Twin Adder

Items

Collectables

Currency

Desynthesis

Items

Materia

PvP

Frontline

General

The Wolves' Den

Quests

Beast Tribe Quests

Levequests

Quests

Seasonal Events
Minions
Mounts